There's just something so inviting about the soul-calming appeal of a country style kitchen! Farmhouse kitchen design tugs at the heart as it lures the senses with elements of an earlier, simpler time. Neutral tones lend a sense of peace to the atmosphere.
How to Restyle Your Kitchen with Contemporary Farmhouse Flair
Old-fashioned wooden tools invite cooks to slow down and create wholesome meals from scratch. Handmade baskets and decorations call to mind a culture of craftsmanship. Vintage artifacts pay homage to beloved relatives and commemorate family history. The farmhouse table, often distressed and encircled by a mismatched collection of chairs, stools and benches, encourages life and laughter shared around the family table. Furthermore, the country kitchen draws much of its design from nature, showcasing the beauty of earth's bounty.
Most importantly, farmhouse kitchen design invites you to take a moment to savor life's simple pleasures. If you're ready to take the blissful plunge into redesigning your own kitchen sanctuary, check out our carefully curated list of the Internet's dreamiest farmhouse kitchen decor ideas. The images we've collected are sure to inspire you for your own renovation of heart and home.
1. Farmhouse Color Scheme: Soft Silver, White & Wood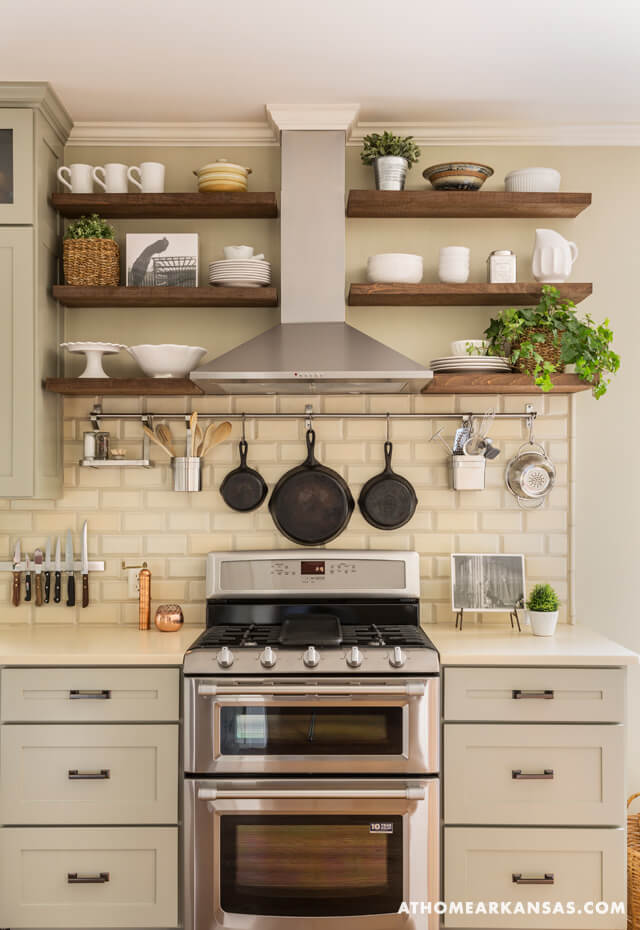 A neutral color palette, real wood shelves, stainless steel and new cabinets give this 1930s kitchen not only more style — but more function. It's modern and economical for the person who loves a beautiful, budget-friendly kitchen.
2. Salvaged Antique Rake Wineglass Holder

Entertaining in a small kitchen just got a whole lot easier. This versatile wine glass holder showcases the head of an steel rake for creatively showcasing your glass collection. It also is a streamlined, functional solution to storage issues in the kitchen.
3. Hanging Chalkboard Pantry Door With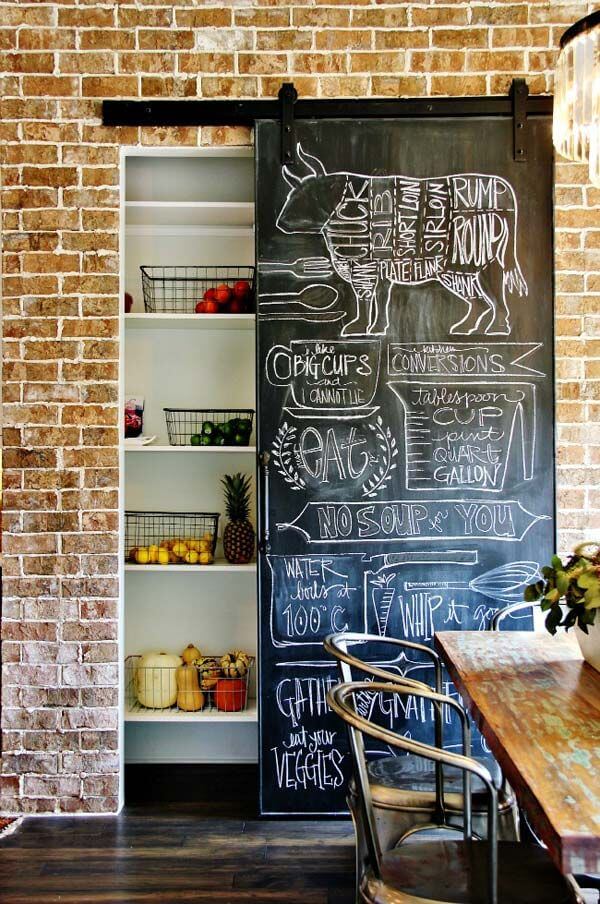 Hide away an unsightly pantry with a chalkboard barn door. You can slip in and out of your pantry quickly and customize the barn door into a work of art for your guests to talk about over dinner.
4. Natural Wood and Ivory Collection in Antique Barn Basket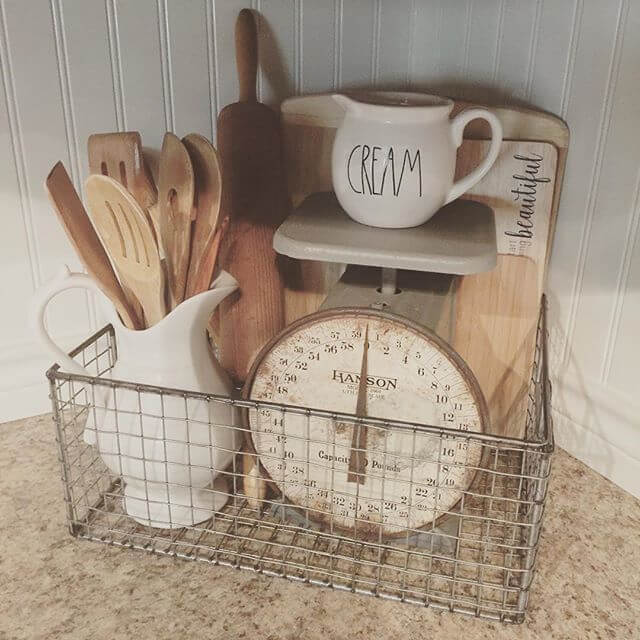 Modernity meets age in this wire storage basket that doubles as a display for vintage finds — including an old-timely scale and a ceramic pitcher for holding your cooking utensils. This looks perfect on your countertop, just by the stove where you can access your kitchen tools quickly and easily.
5. Triad of Narrow Whitewashed Mirrors Accented with Eucalyptus Wreath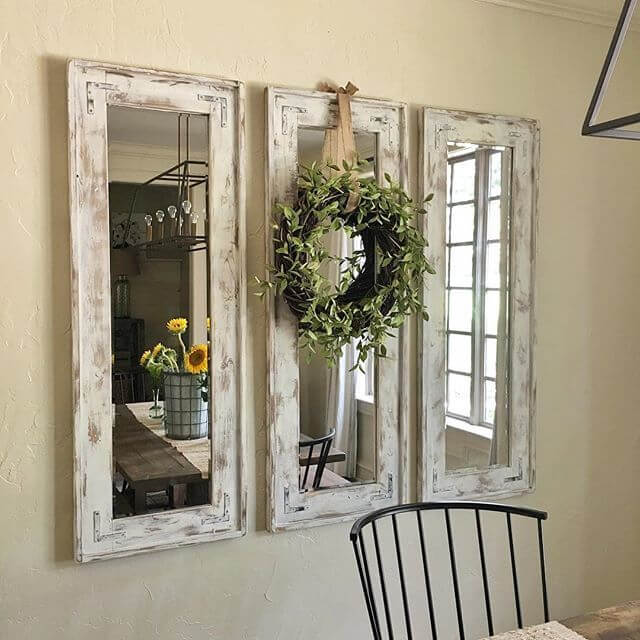 Don't buy an expensive mirror when you can dress up three old ones and make them look like they've always belonged in your farmhouse. These three vertical mirrors have been distressed and hung side by side to mimic the look of a larger mirror. Hang a seasonal wreath from the middle mirror for a little extra charm.
6. Recycled Coffee Can Kitchen Herb Garden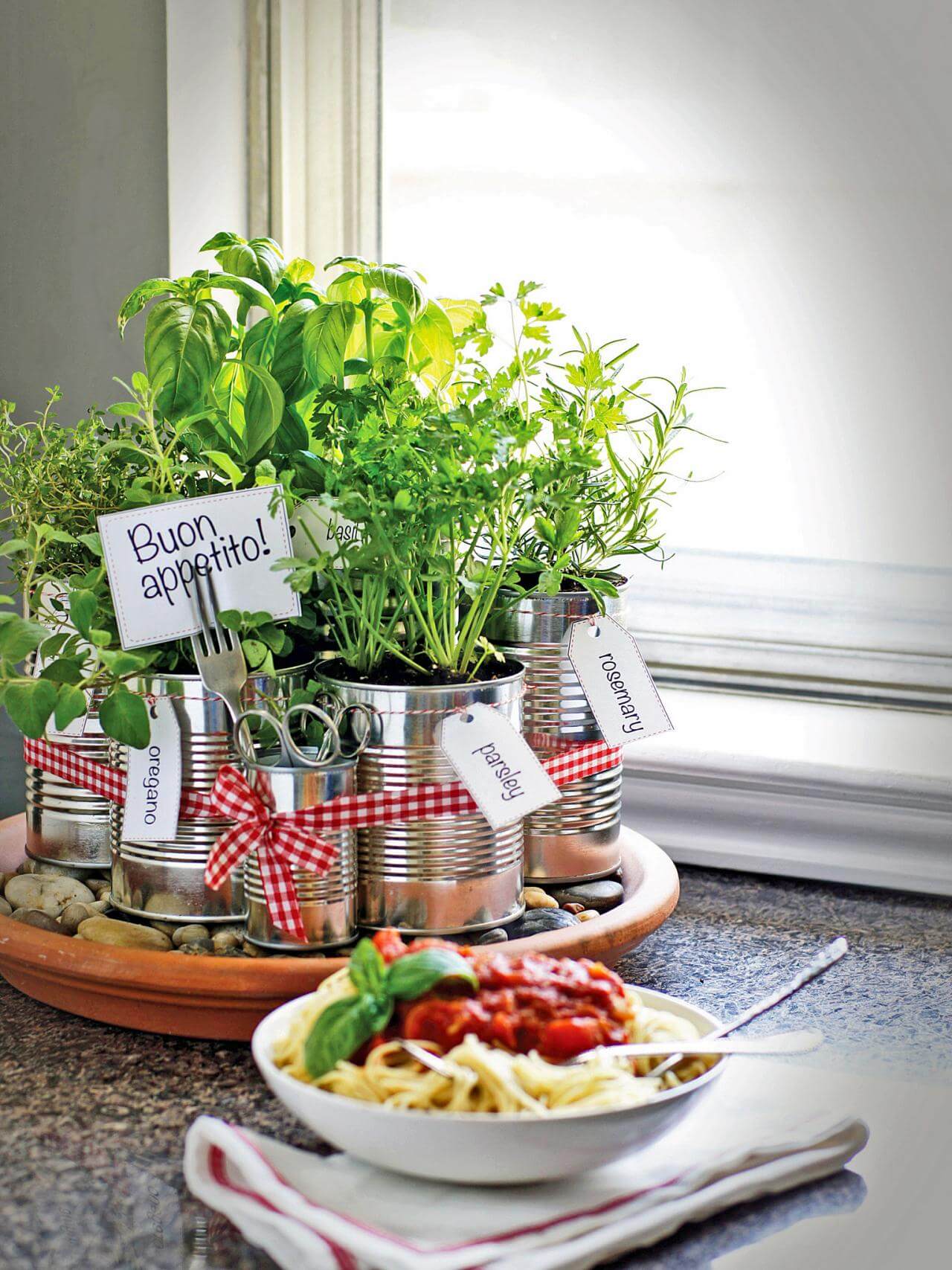 Getting fresh herbs on your home-cooked meals just got easier with this super simple and charming tabletop herbarium. Grow your favorite herbs in old soup cans and add an additional can to hold a few pairs of scissors. Snip your way to sensational meals.
7. Farmer's Market Crate Produce Storage Drawers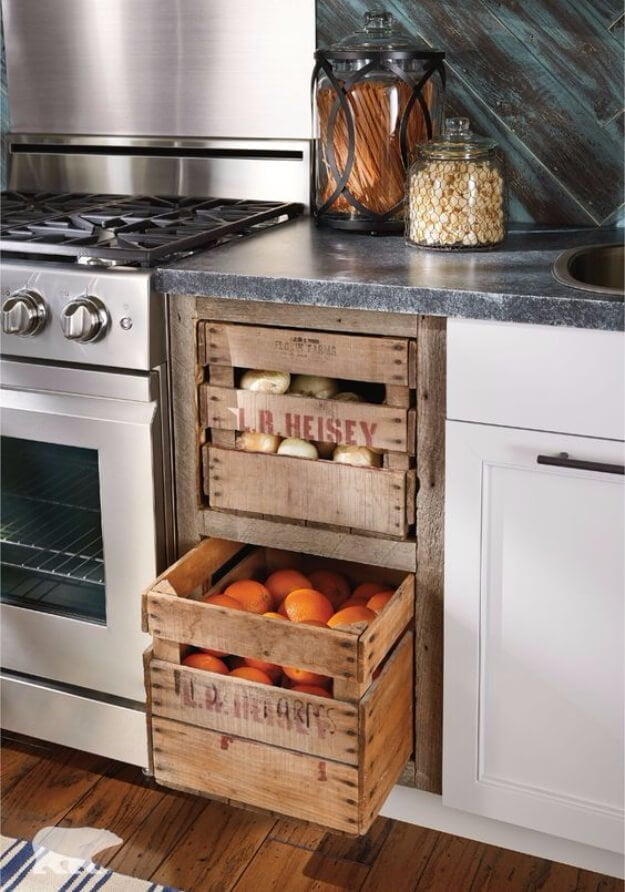 With a little craftsmanship and creative maneuvering, you can turn old fruit crates that you pick up at your local flea market into the perfect storage bin for bulk items that have a longer lifetime, such as potatoes and onions.
8. Barnyard Picket Window Shutters with Antiqued Hardware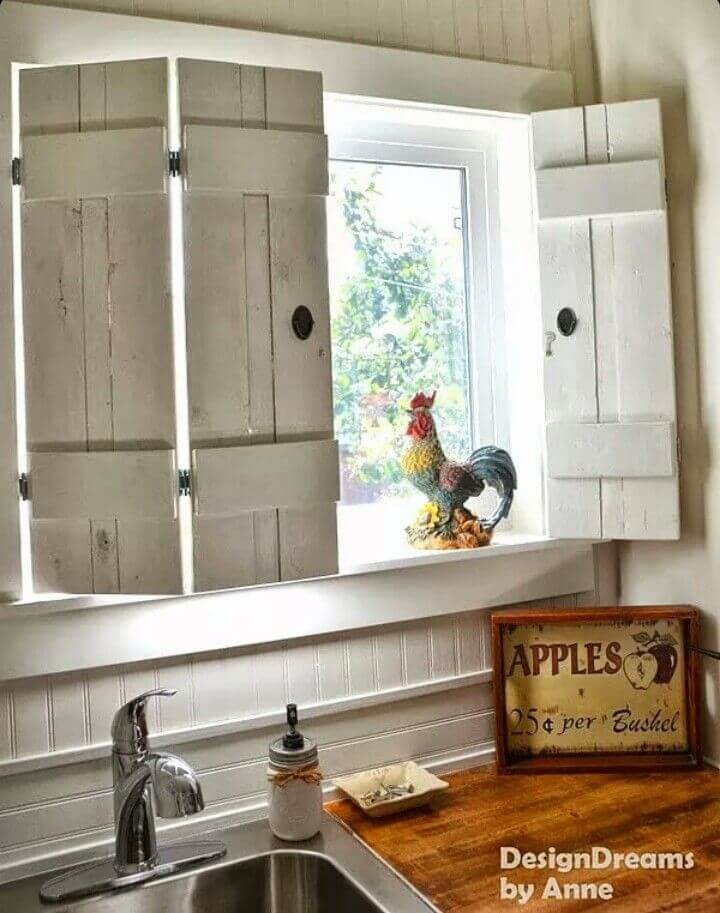 Let the light in (or out) with rustic, shuttered doors for your windows that are built in the accordion style. You can collapse them fully or partly to get just the right amount of light into your room.
9. Weathered Gray Tiered Fruit and Flower Stand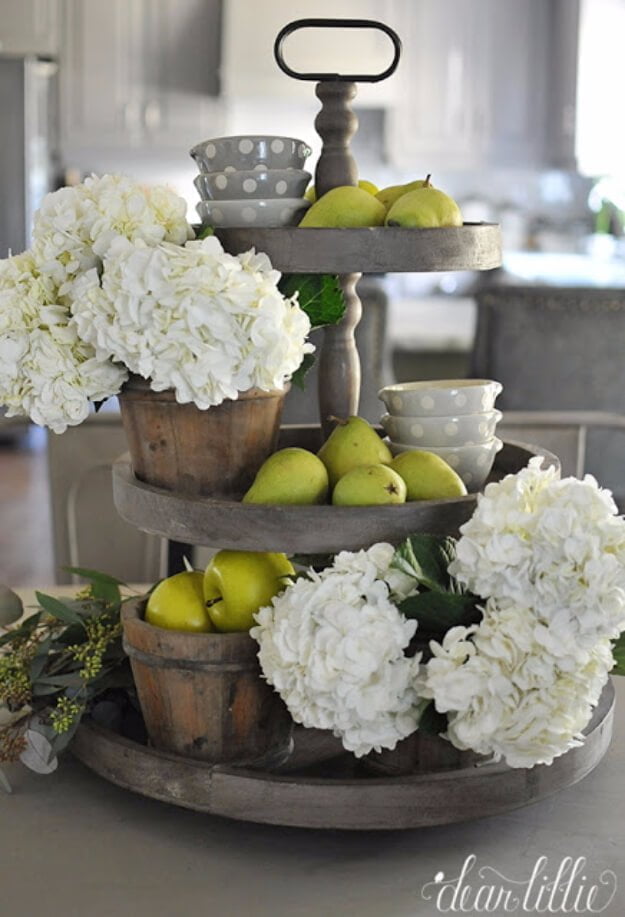 Create a simple yet beautiful display for your table using cake stands. Place a smaller one on top of a larger one. Then add odds and ends, trinkets, fruits and flowers for a budget-friendly yet beautiful piece of art for your table. This display also can be amended to be as functional as you need it to be.
10. Country Blue and White Linen Cabinet Curtains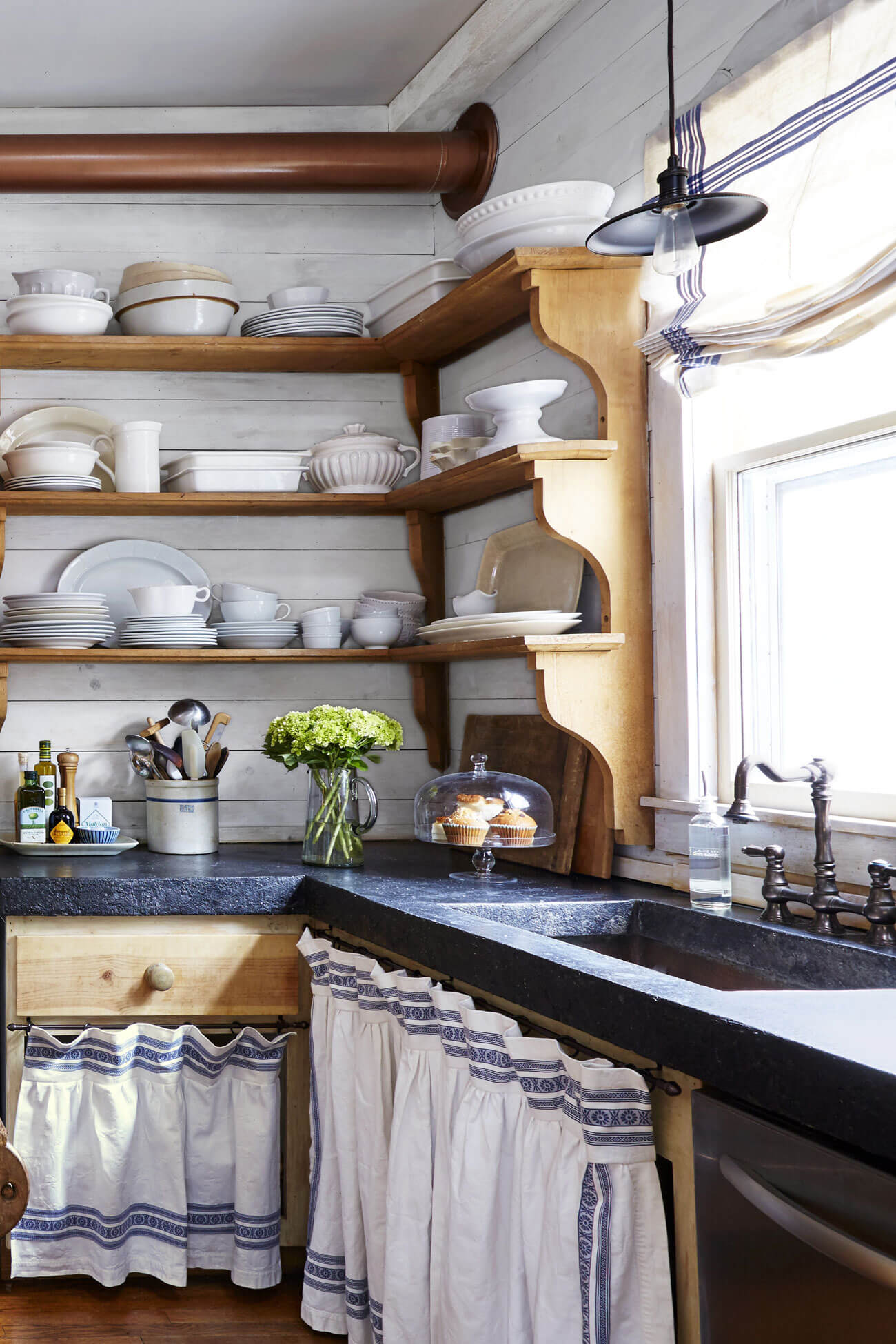 When storage in the kitchen is an issue — and you don't have the luxury of a pantry — think up and down. Instead of cabinets, add open shelves for easy retrieval of glasses and plates. Add a cute, country skirt across your lower cabinets to hide less-than-functional cabinets and to add a little whimsy to your kitchen.
11. Farmhouse Gray, Country White and Warm Wood Accents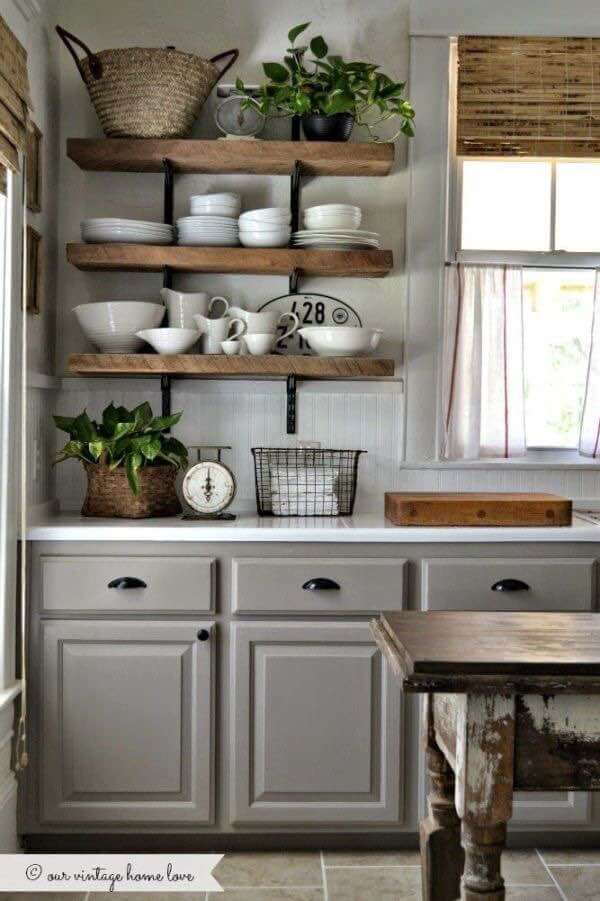 With an open wall space at a minimum, this kitchen takes advantage of every free spot. You can achieve a similar look by installing real wood block shelves up the vertical swathe of the wall. Make countertops more functional by placing items on them with dual functions. For example, a wire basket adds a modern look but also holds kitchen towels.
12. Porcelain Farmhouse Sink in Vintage Cabinet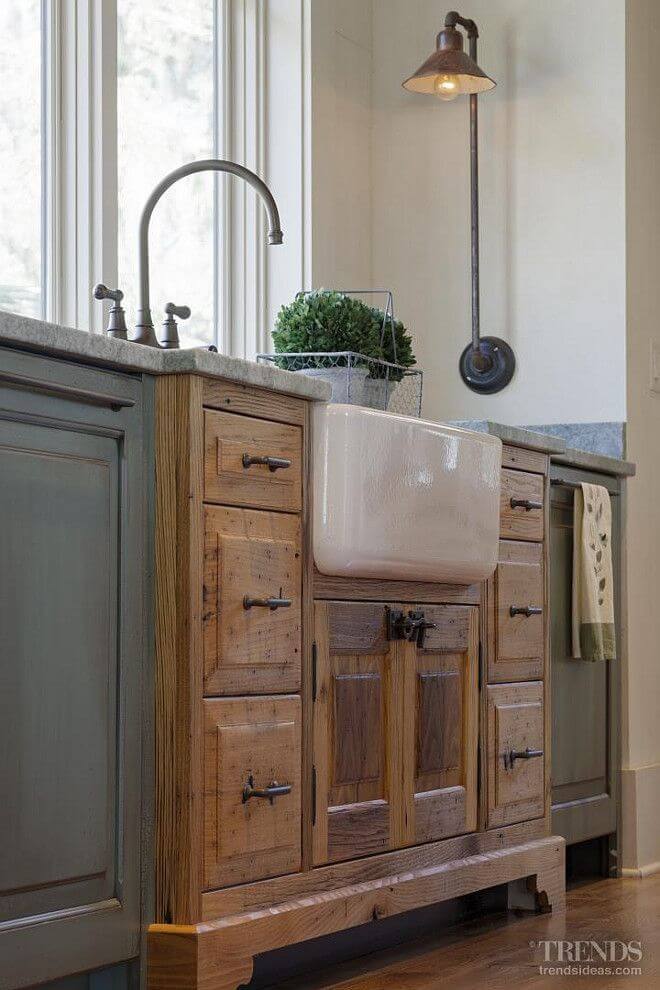 Who says all of your cabinets need to look the same in your kitchen? Add a unique look to your kitchen by installing an Old World or French Country wood sink stand with a stunner of a sink — a deep Farmhouse-style one.
13. Shabby Chic Farmhouse Kitchen Décor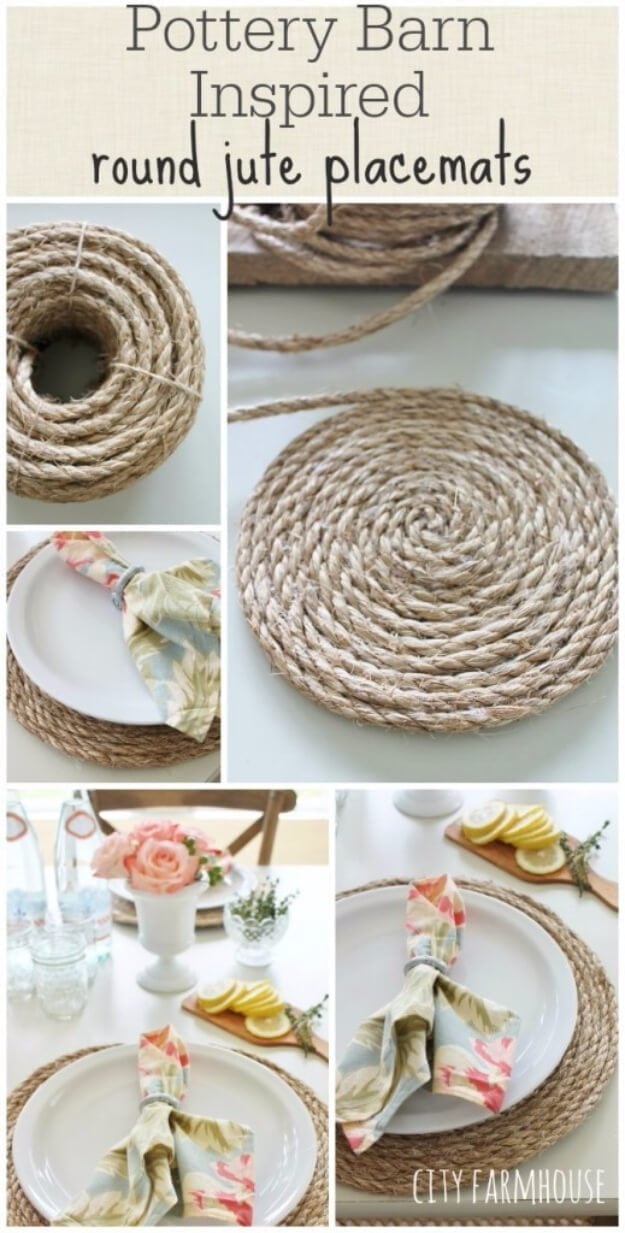 Don't spend all of your rainy day money if you don't have to! Instead, create these easy, stunning placemats with a little braided jute rope and a glue gun. Remember to make them larger than your dinner plates so that they peek out from the plate for decoration — and to protect your tablecloth.
14. Cozy Country White Coffee Nook
Your morning brew is literally a few minutes away with all of your coffee items an arm's stretch away with this adorable coffee bar made from an entry-way table and a cubbyhole-shelf. Store items on the tabletop and in the drawers. Perfect for guests, too!
15. Bouquets of Grain and Woven Accents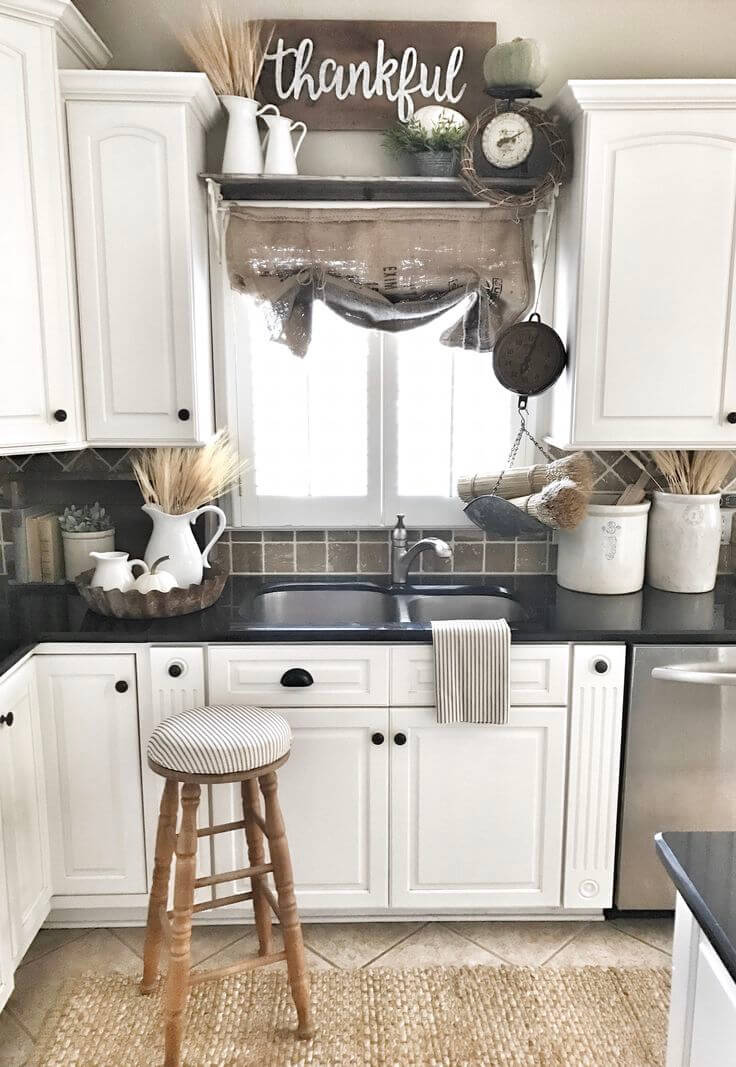 Mix fabrics for a modern yet stylish farmhouse look. Hang burlap on the window sill for a quick, charming curtain. Add a natural jute rug on the floor for a soft place for your feet to land and a rug that can take traffic and a mess.
16. Rustic Paper Towel Roll Coop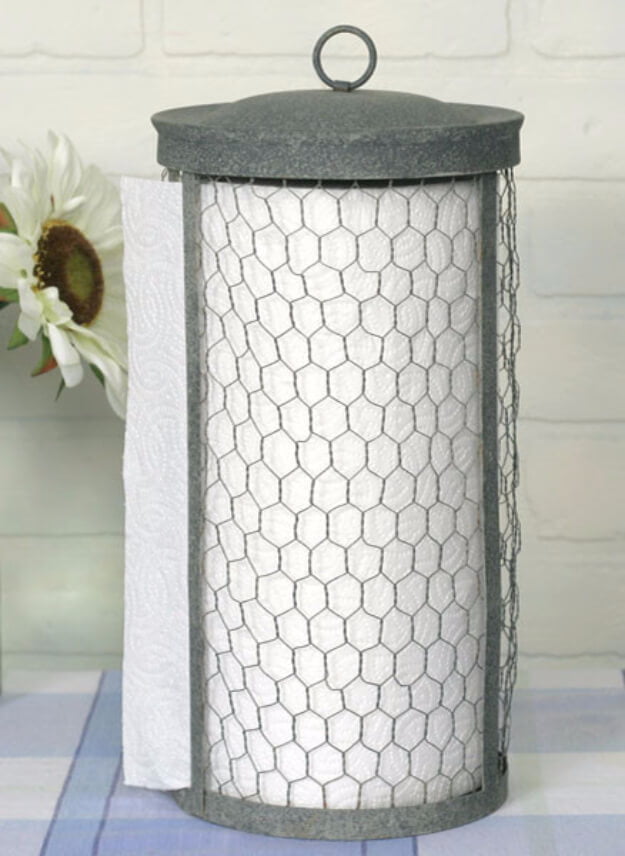 For a little country charm, a lantern encased by chicken wire makes a cool, chic and country paper towel holder. You don't even need the middle rod to hold the roll. The roll will fit snugly in the lantern so all you have to do is pull out a sheet.
17. Old Country Store Hand-Lettered Labeling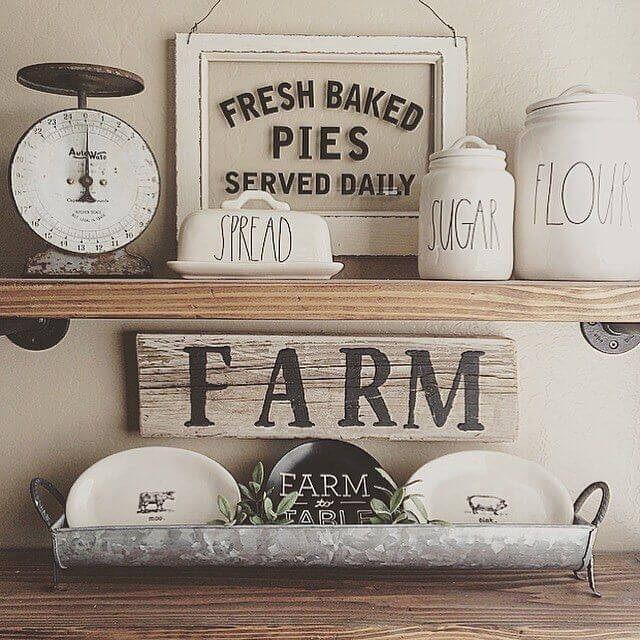 Never underestimate the power of functional pieces that double as decor items. In this case, add sugar and flour canisters to a wood shelf. Display farm-chic plates that can be doubled as a resting place for that freshly-baked pie.
18. Vintage Hanging Pharmacy Clock in Weathered Copper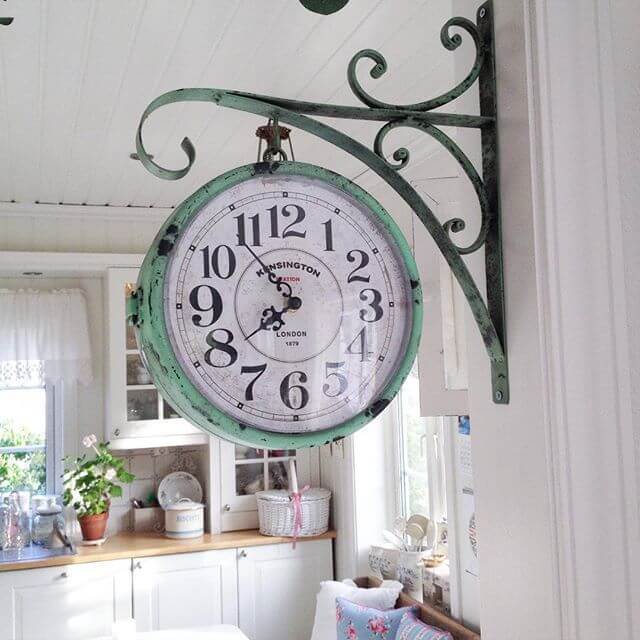 Take a flea market scale and outfit it with a working clock for a mountable, vintage piece of art for your kitchen that also is full of function. A little paint, and you'll bring the scale-clock into modern times.
19. Double Hanging Barn Door Food Pantry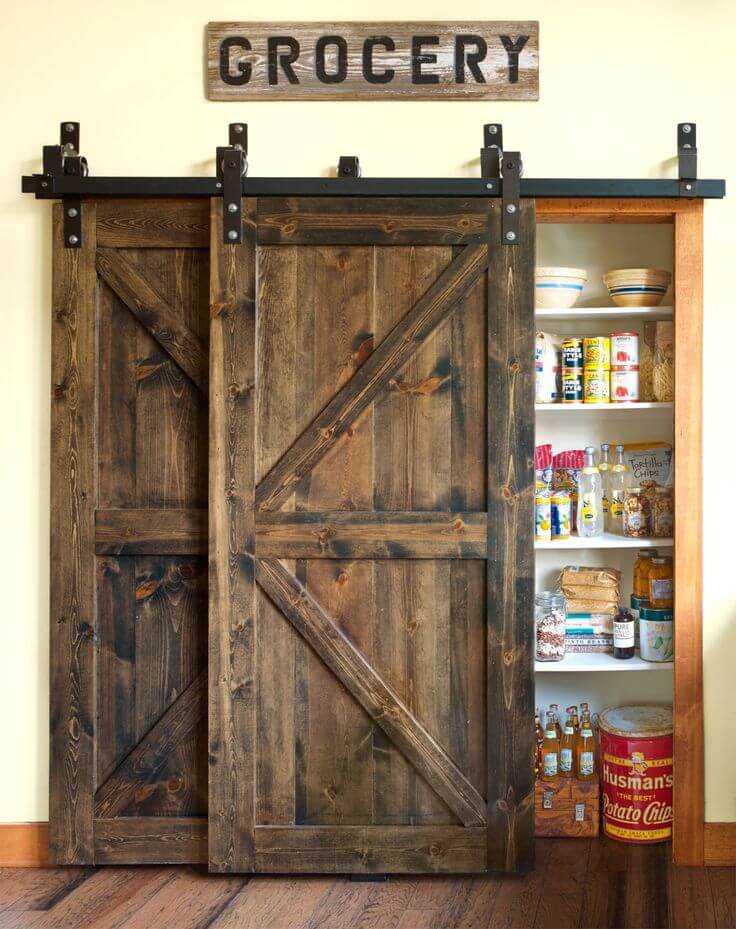 Save space and rack up style points by staining raw wood barn doors and hanging them to cover up an overly-stuffed kitchen pantry. While folding doors get in the way, these handsome barn doors slide past one another for a space-saving solution that also makes getting in and out of the pantry a breeze.
20. Clamp Lid Canning Jars for Dry Goods Organization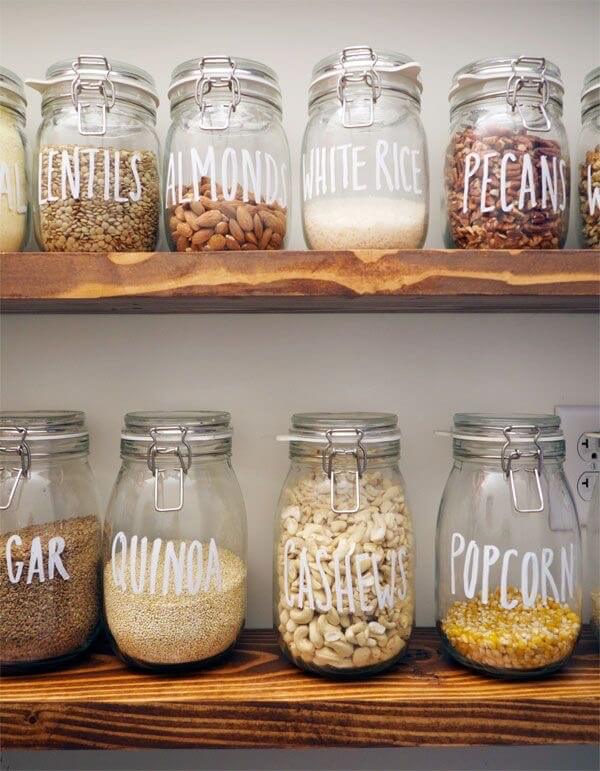 Streamline your pantry by filling mason jars with pop tops with your favorite dry goods — such as popcorn and beans. Use a paint marker to identify the contents.
21. Collection of Turned-Wood Vessels and Tools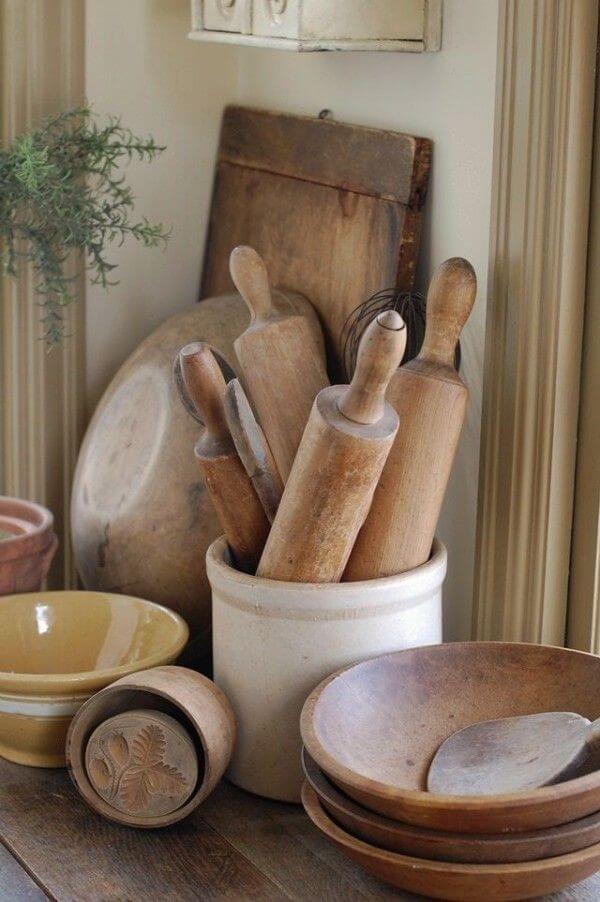 All those rolling pins you picked up from the flea market make a vintage display on your kitchen counter — and keep them handy for when it's time for the family to roll some dough.
22. Galvanized Metal Cutlery and Linens Caddy
Go paperless in your kitchen with a cute metal basket filled with your favorite cloth napkins and cutlery at the ready. No need to set the table with this mobile dinner basket.
23. Farmhouse Kitchen Baker's Hutch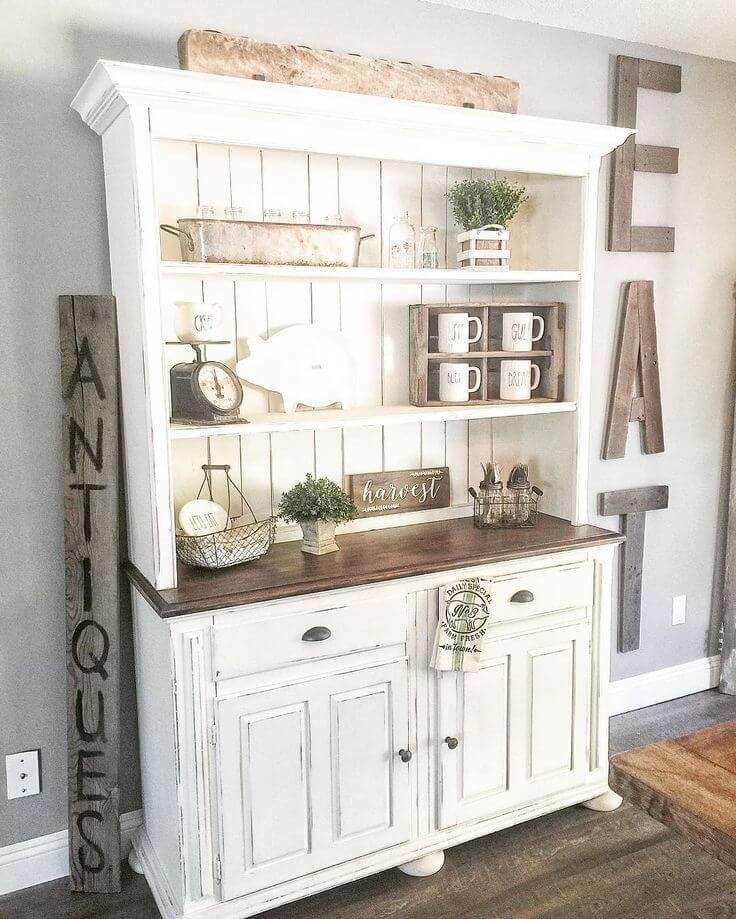 A hutch and cupboard make the perfect storage piece for all of your dining room and kitchen utensils. The shelves make the perfect spot for displaying your vintage finds.
24. Ceramic Mason Jar Storage Set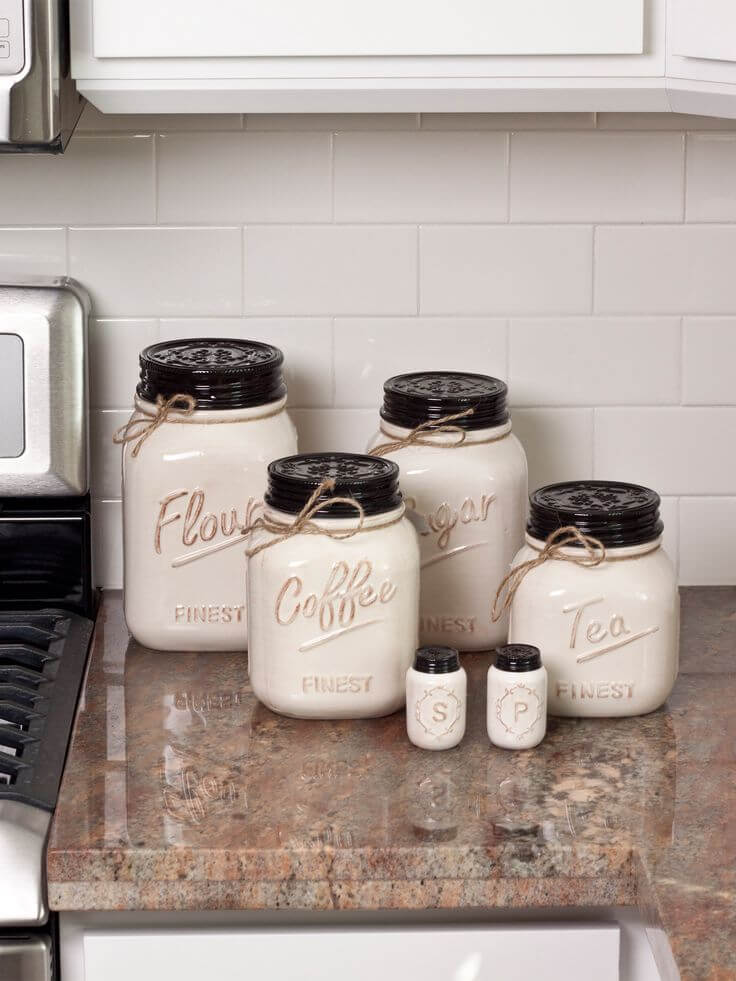 Up-cycled mason jars get new life with a quick spray paint project. Paint the tops black and the bodies cream and fill with your favorite sundry items.
25. Dutch Door Leading to Kitchen Garden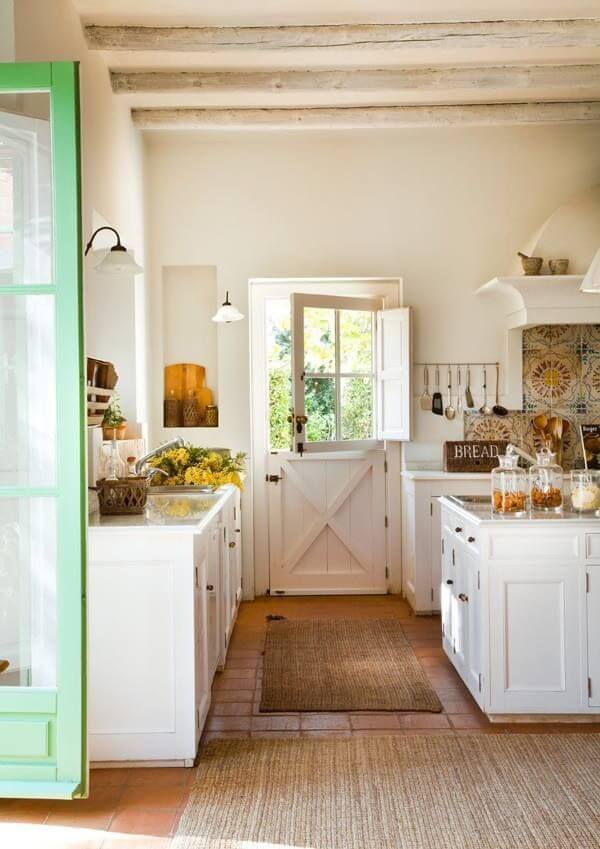 There is nothing sweeter than a Dutch door in your kitchen. On warm days, open up the top for a little breeze while still providing protection from animals that might try to sneak in. You have options with this door.
26. Autumnal Centerpiece in Soothing Neutrals Color Palette
Create a simple autumn tables-scape by filling a tin pitcher with wheat stalks and surrounding the base with a few miniature white pumpkins. Voila!
27. Plantation's Bounty Display Shelves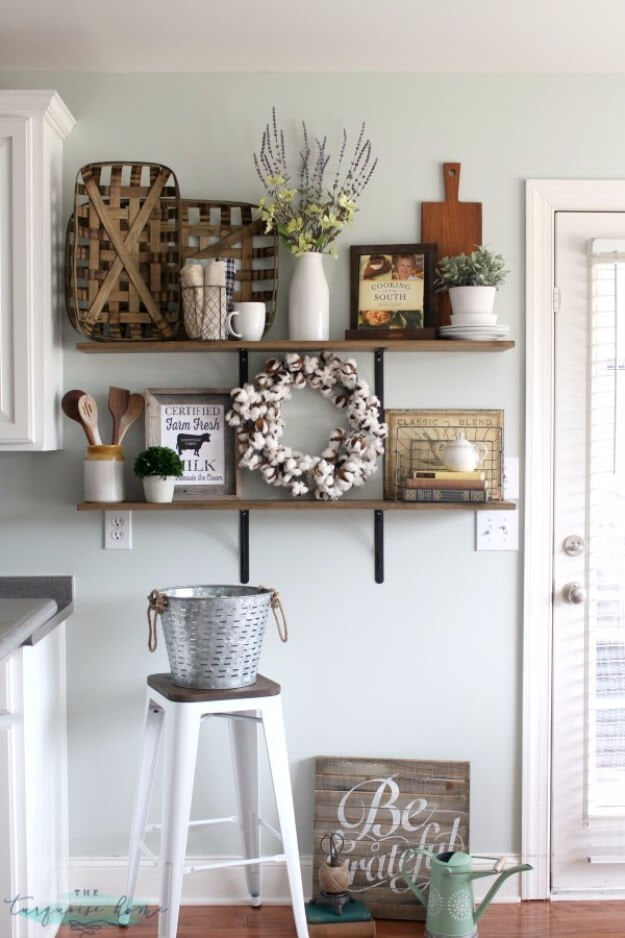 Who says a tables-scape needs to be only on a table? Think of your bookshelves as a place to tell a story via display items. For example, add bread baskets, a cotton wreath, a vase with dried flowers to create a vintage country look that feels like a museum piece.
28. Chicken Wire Lattice Cupboard Door Fronts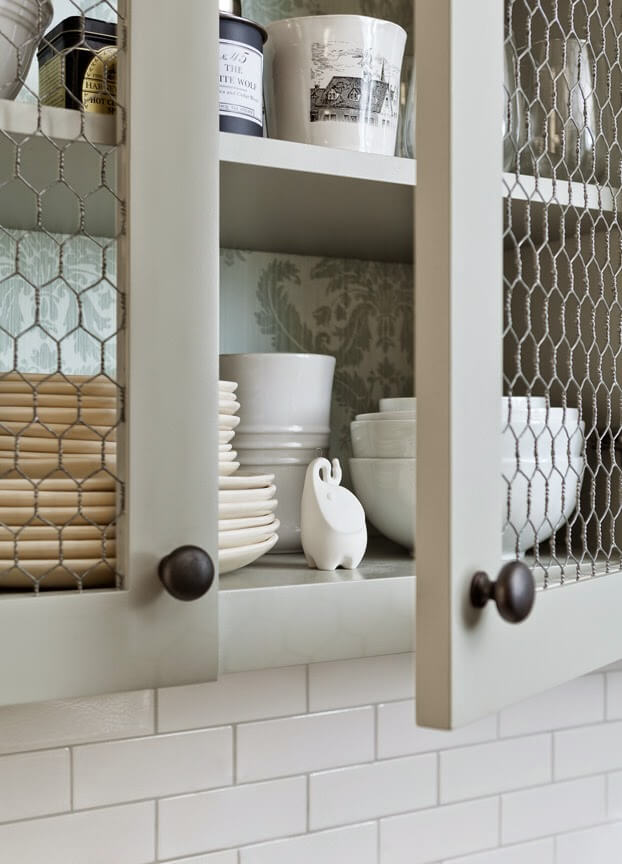 Your kitchen has never been so airy and country by replacing the glass in your kitchen cabinets with chicken wire. This is cost-effective and fits perfectly in a country kitchen.
29. Country White Cabinetry & Kitchen Tiles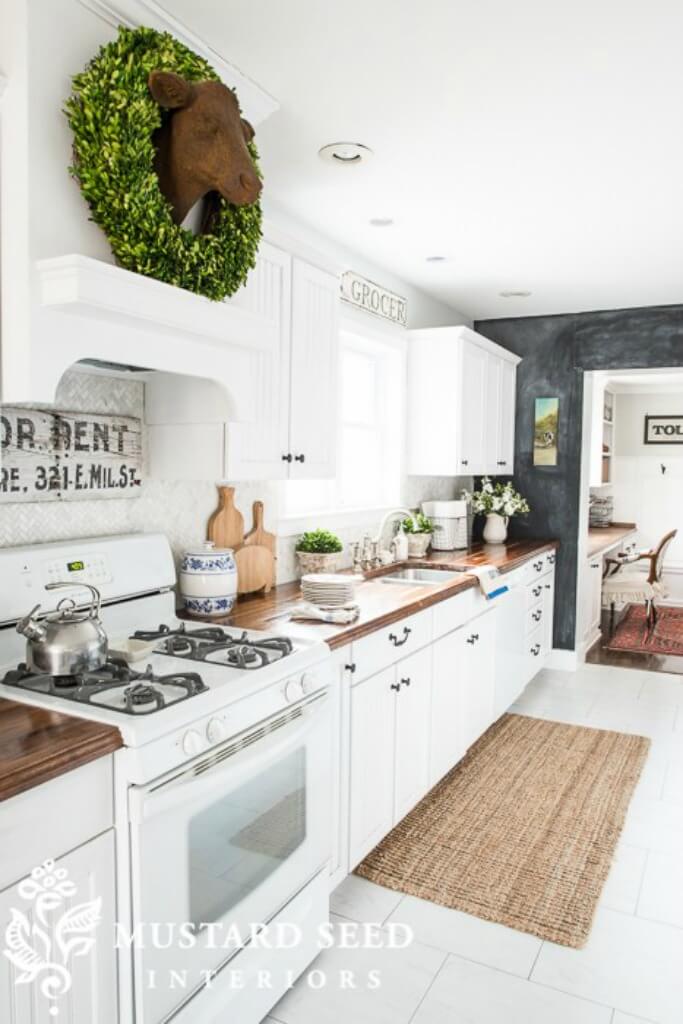 Think of your next kitchen as a blend of mixed materials for a natural, modern look. Add a chalkboard wall, wood countertops, a natural jute rug and a little pop of greenery.
30. Suspended Mini-Mason Jar Bud Vase Trio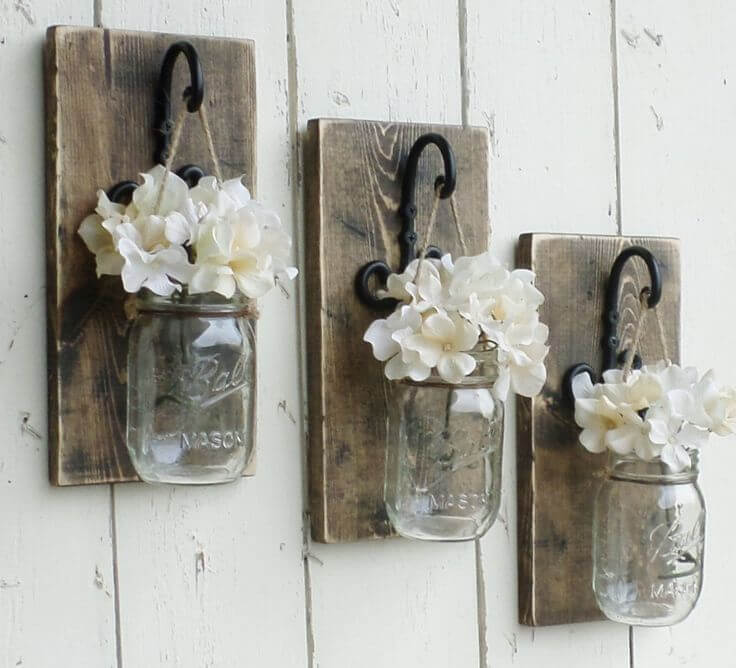 Make a cute flower display with remanent wood and mason jars. Add a hook to the boards and hang the jars on the hooks with decorative ribbon or string. You'll have an instant vase.
31. Rustic Chalkboard Kitchen Accent Wall
Turn a bare kitchen wall into a full chalkboard that acts as a work of art and as a message board for your family. Cover up the chalkboard when it isn't in use with a sliding barn door.
32. Antique Produce Shelf with Wire Baskets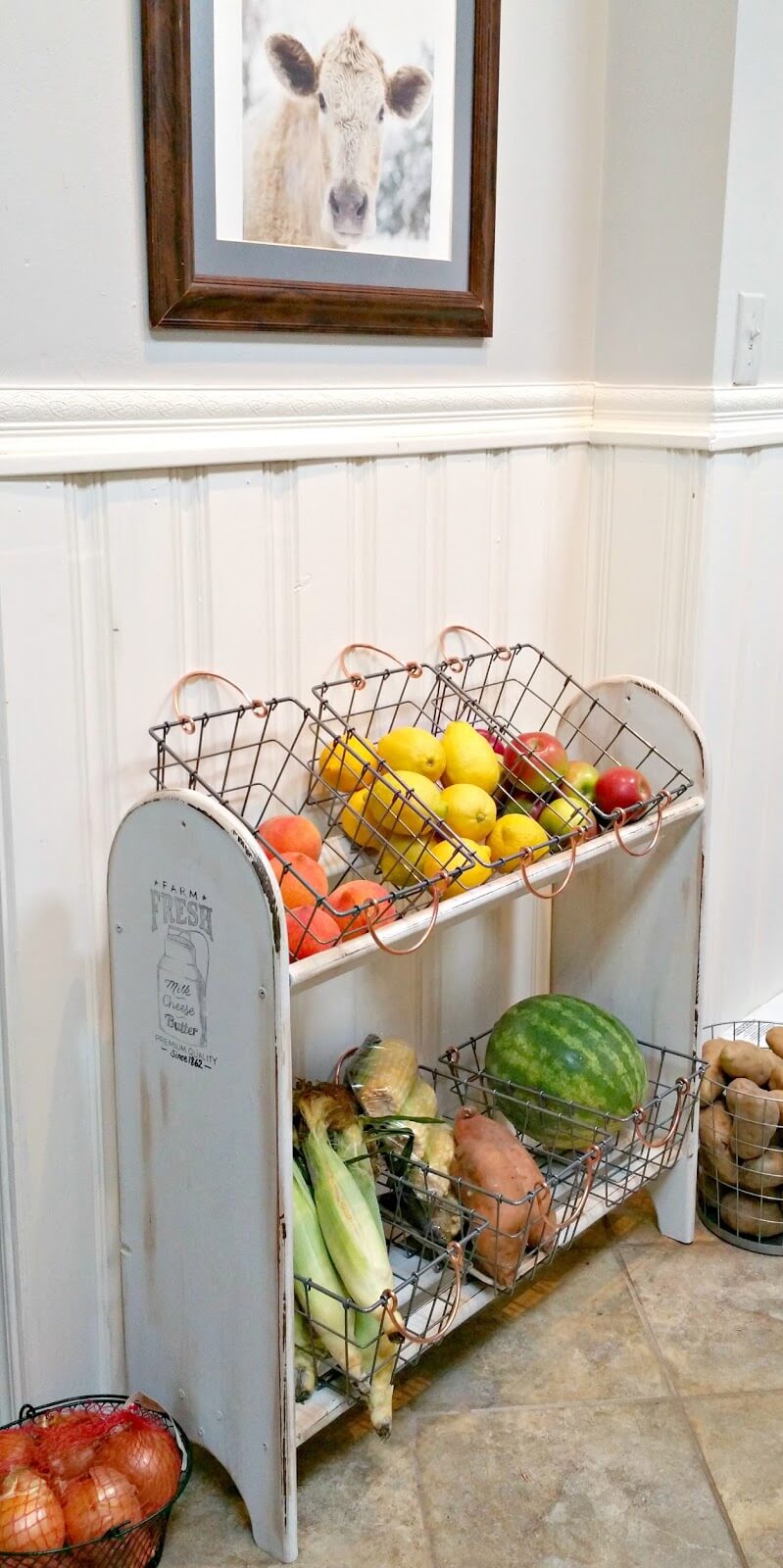 A shoe rack becomes the perfect vegetable caddy by adding wire baskets to the shelves and filling up on produce. Perfect for a pantry.
33. Vintage Desk as Farmhouse Kitchen Island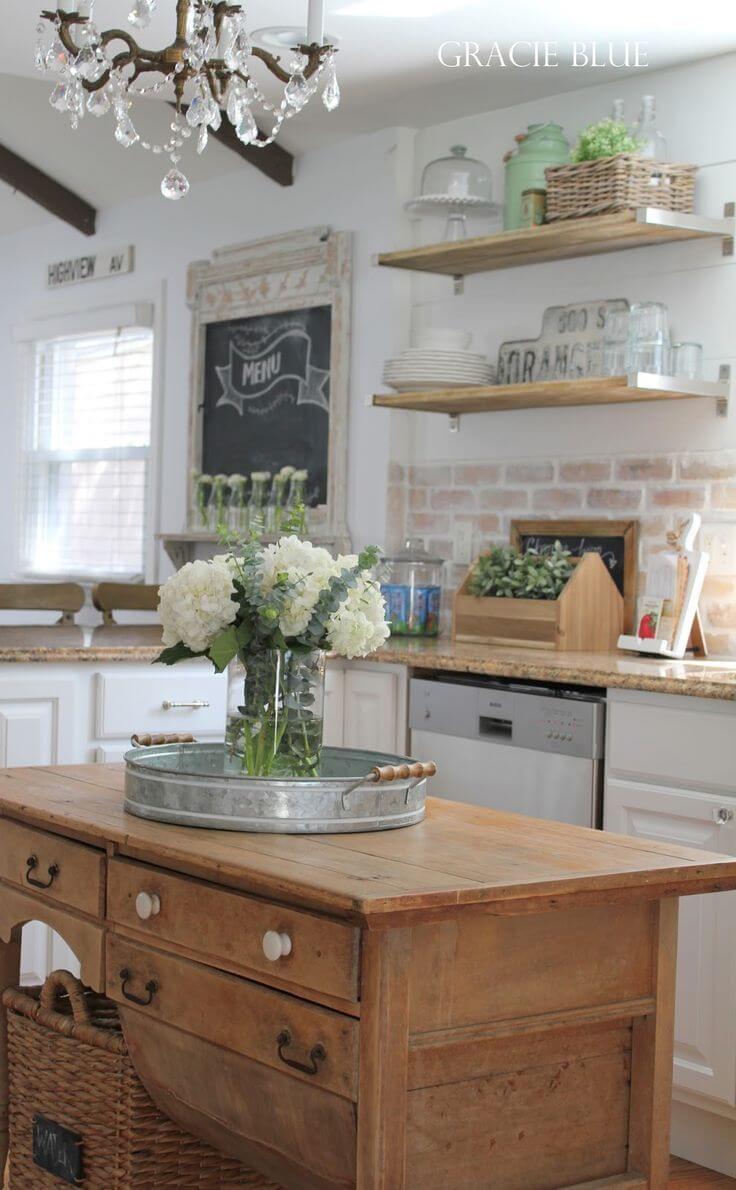 Repurpose an old desk as a butcher's block or island in your kitchen. Look for a desk that has a shelf beneath the drawers so you can add a basket for storing pots and pans an other utensils.
34. Counter Organizer with Metal Basket Storage Drawers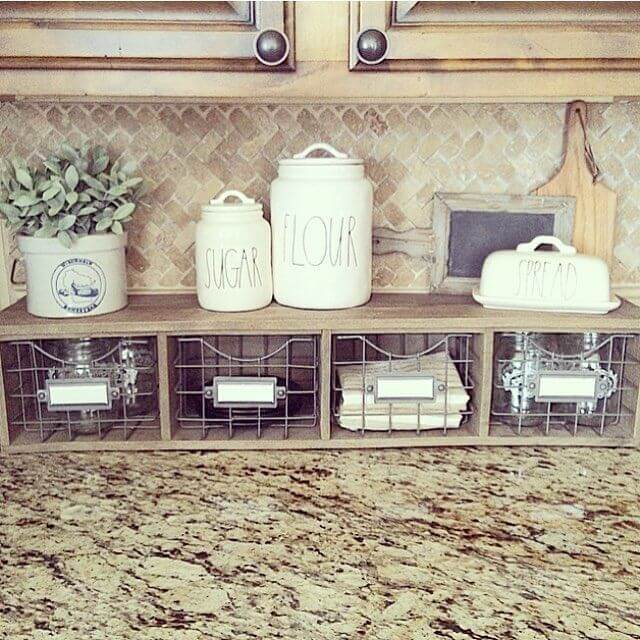 A four-cube shoe cubby can become an instant countertop storage station by adding wire baskets to the cubby holes.
35. Eat-In Kitchen Dinette with Distressed X-Back Chairs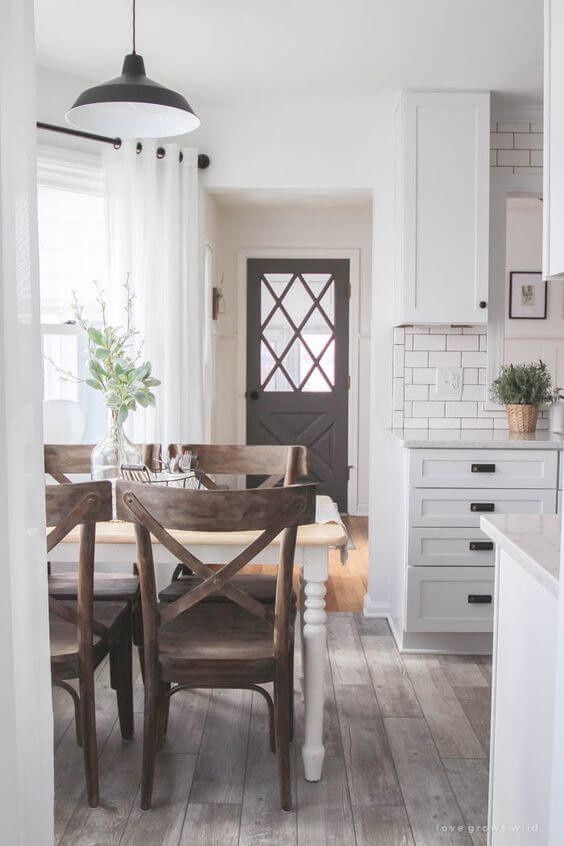 Add a pop of color to French country, minimalist kitchen by painting the door a deep gray while keeping neutrals on everything else — white walls, white curtains, white-washed flooring and white cabinets.
36. Dark Wood Work Bench Kitchen Island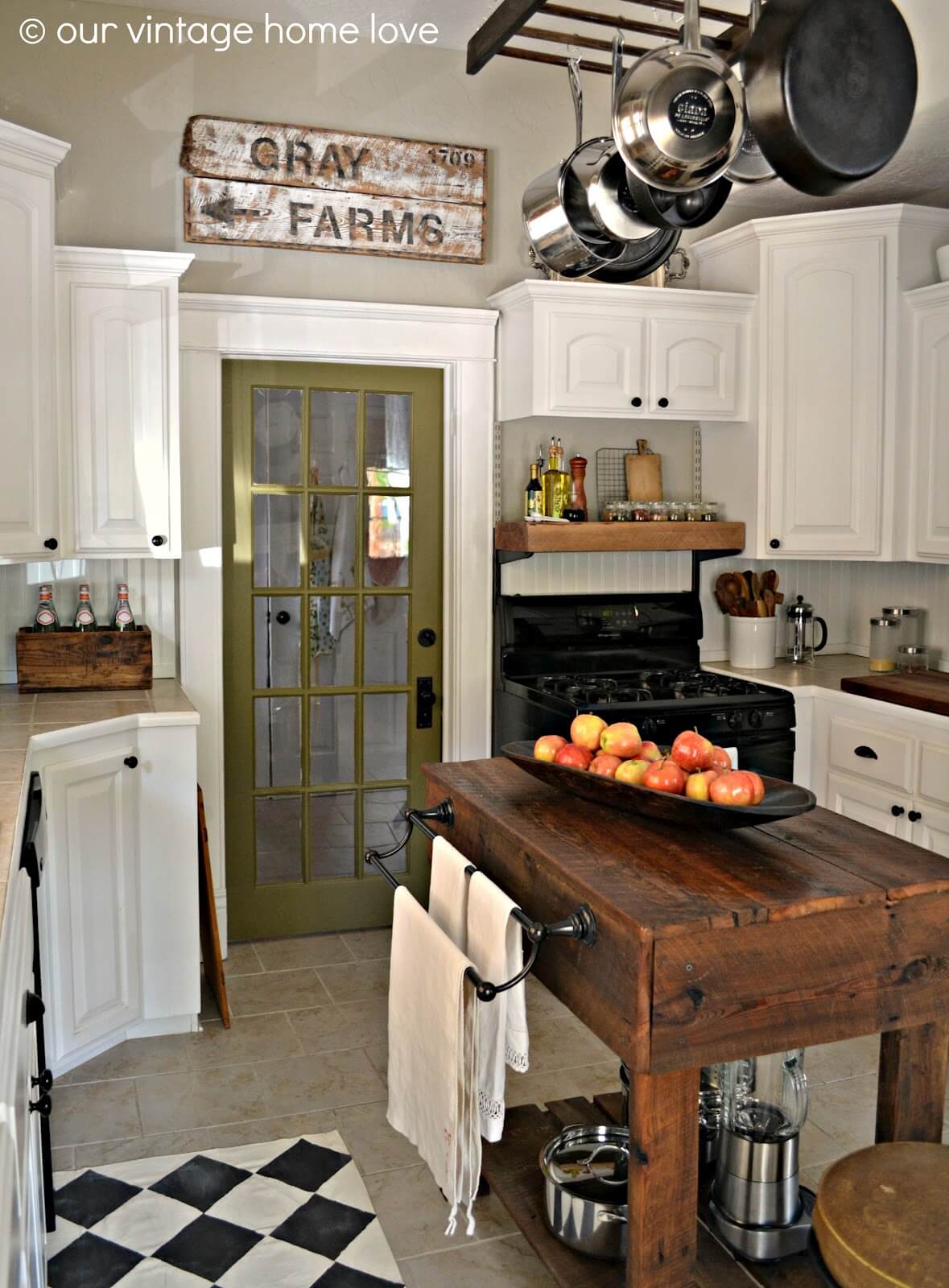 A kitchen that has a color palette of white and earthy woods needs a little color pop. Get that by painting an interior door a muted, deep green.
37. Perforated Milk Pail Pendant Lamp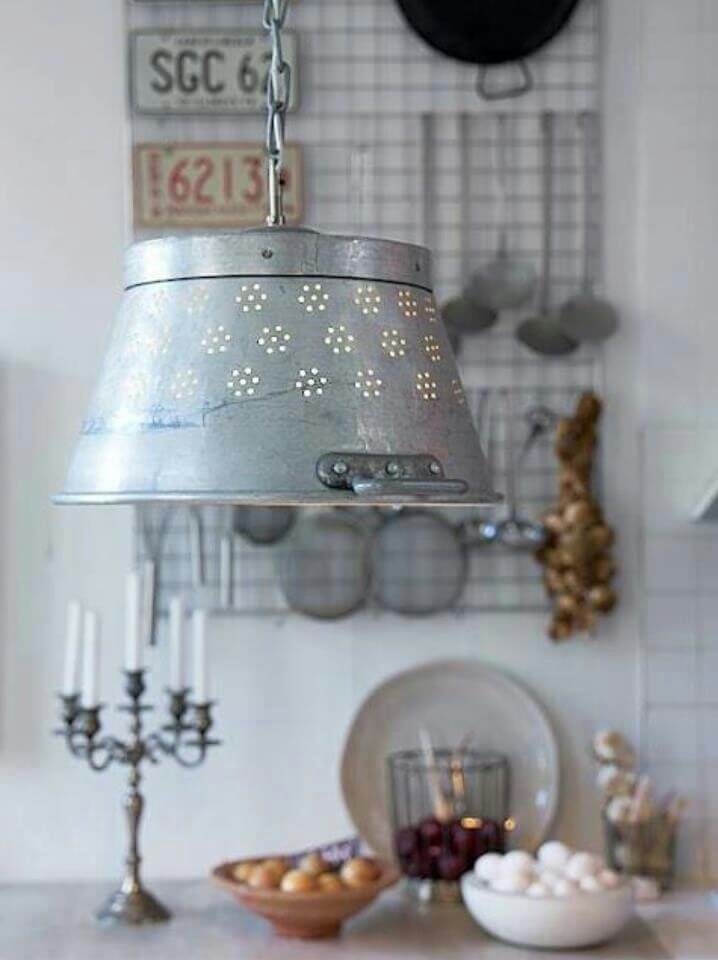 With the help of your local electrician, you can turn a vintage colander into your next hanging lampshade.
38. Oink, Moo, Cockadoodledoo Welcome Sign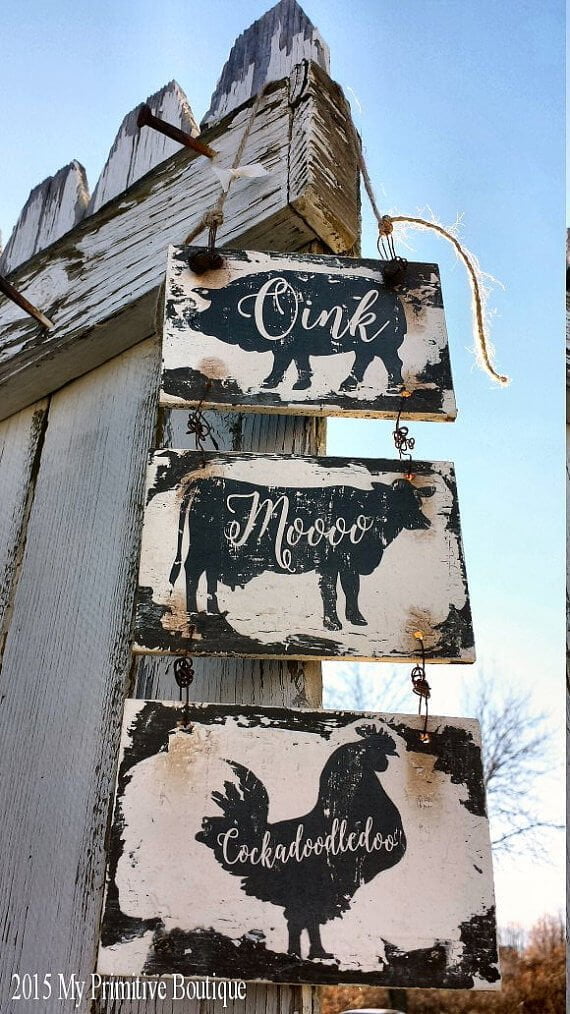 Welcome guests to your country paradise by hanging a tiered sign on the fence that identifies the farm animals they are likely to see — a pig, a cow and of course, chickens.